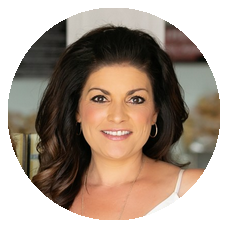 Toni Bonadonna, Owner/Operator, Scimeca's Online Retail Market & Deli
(Restaurant | Food & Beverage)
Briefly describe the business/industry you are in ... What does your company do ... What is your company's mission ...

Scimeca's Retail Market & Deli is a one-of-a-kind culinary experience and a Kansas City tradition rooted in recipes that span generations.  We feature breakfast, lunch, catering, Italian grocery and specialty items as well as shipping product -favorites anywhere in the United States.  We also build custom baskets and boxes perfect for gifts and corporate marketing.
What led you to choose the profession or business/industry you are in ... why do you do what you do?
It was an honor to carry on the food traditions of my father and brother, my grandfather, uncles, and great-grandfather.  To see the opportunity to create a modern-day food and hospitality experience rich in heritage and culture that has been a staple in Kansas City, then broaden our reach throughout the country, was an opportunity I couldn't miss.  We knew there were loyal customers wanting more of our family food traditions and we are thrilled to meet and exceed those needs.
What has been the biggest challenge or risk in your career or your business?
Hands down, launching our business during COVID was the biggest challenge.  It forced us to think about food service and retail operations differently while opening a new business.  The extra expenses, limitations, and precautions to keep our customers and team members safe were top-of-mind and we managed to open and thrive against all of those challenges.  It gave us confidence that we could succeed long-term as the food industry and retail businesses settled into a new normal.
What has been the biggest success or source of accomplishment in your career or business?
For me, it's two-fold – first is building a motivated, talented, and passionate team that would do anything to see our business soar and our customers delighted.  Second is the joy of our repeat customers, the word-of-mouth praises, the social media energy, accolades published as being named the "Best Deli" in Kansas City in both the Pitch and Ingram's magazine, as well as the continued growth of our grocery, deli, catering, shipping, and gift items month after month.  We feel so blessed.
Who do you lean on for advice or ask for help ... do you have a mentor?
I look to my father and brother a lot as they have carried on the tradition of providing our Famous Italian Sausage and other food products to grocery stores and restaurants for many years.  They truly know the industry and the customer base.  I also leverage my mom, as she works with us multiple days per week – she is the eyes and ears of the place and brings a creative eye to all we do.  Finally, our talented and committed team are always there offering advice and ideas – they care so much about our mission, I love them all!
What are some of your interests or activities outside your career or business?
I love to spend time with my husband, Anthony, and two children, Mike and Nina- as well as my extended family and friends.  I enjoy traveling, exercising, being outdoors, and, of course, cooking and hosting gatherings!
What is one piece of advice you have for other Women in Business Leaders or other Female Entrepreneurs currently running a business or thinking about launching a company?
Only do whatever it is if you are passionate about it and surround yourself with others who have that same passion.  This will drive you to always do the best for your customers and to overcome obstacles with perseverance.  This passion is contagious to your team and your clients.