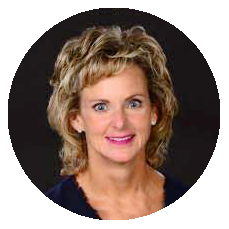 Ginger Bliss, Chief Operating Officer, Midwest Aortic & Vascular Institute, P.C.
(Health & Wellness)
Briefly describe the business/industry you are in ... What does your company do ... What is your company's mission ...

Midwest Aortic & Vascular Institute physicians diagnose and treat a wide variety of vascular disorders, from complex aortic aneurysms to varicose veins. Our board-certified surgeons are recognized for their innovative surgical techniques, commitment to education and awareness, and research to advance the options in treatments. They literally save lives and limbs each and every day
What led you to choose the profession or business/industry you are in ... why do you do what you do?
I have remained in healthcare administration for the past 20 years because it is very satisfying to be able to offer behind the scenes support to physicians, nurses, and staff. I try to ensure processes run as smoothly and efficiently as possible so their time and energy is best utilized for patient care.
What has been the biggest challenge or risk in your career or your business?
The biggest challenge of my career has been moving from working in large health systems to a small physician-owned business. Healthcare is challenging in general, but moving from a corporate structure with many departments, hundreds of leaders and thousands of employees to a small business with only 50 total people was a huge change. I have always had a strong work ethic and putting in long hours was something I was used to, but working in this small business took it to another level. Fortunately, I like to learn new things, so it has offered me the opportunity to expand my knowledge in areas in which I previously had little direct exposure.
What has been the biggest success or source of accomplishment in your career or business?
My greatest sense of accomplishment has been getting to know employees and helping them grow in their careers. To me, there is nothing greater than helping a person become all they want to be and sometimes even more than they thought they could be.
Who do you lean on for advice or ask for help ... do you have a mentor?
MAVI CEO Annette Small and I were colleagues at a health system before she asked me to join her a few months into her role here. I would say that she and I lean on each other for advice. We jokingly say we are twins because we are so much alike when it comes to our values and knowing what the other is feeling, but we are vastly different when it comes to some other aspects which is where we can disagree and challenge each other. We have such great respect for one another, though, that the disagreeing and challenging really becomes a collective strength because we often end up with the best solution because we have gone through that process.
What are some of your interests or activities outside your career or business?
It is a blessing to get to both work and play with a best friend. As if we don't get to see each other enough in the office, most weekends April-November, Annette and I and our families can be found on her pontoon boat at Lake Jacomo. In addition, I enjoy running, walking along the river, parks, or my North Kansas City neighborhood, spending time with family and friends.  I am in the process of writing a book.
What is one piece of advice you have for other Women in Business Leaders or other Female Entrepreneurs currently running a business or thinking about launching a company?
My biggest piece of advice is to invest in relationships. The busier people become; the less they tend to do this. But it is people, whether your employees, colleagues, mentors, network, customers, that are the ones who will help you get started, help you succeed and help you if you ever fail.