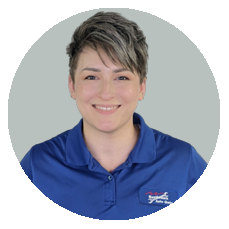 Erin Hall – Co-Owner & Service Advisor, Northtown Auto Clinic
(Services & Repairs)
Briefly describe the business/industry you are in ... What does your company do ... What is your company's mission?
I am in the aftermarket automotive repair and maintenance industry – Northtown Auto Clinic has been repairing personal and commercial vehicles for North Kansas City residents and employees since 1982. I have been with Northtown since 2014 and became a second generation owner in 2018. We endeavor to create a trusting, transparent relationship with our customers by offering information and education about their vehicle, so they may make informed decisions.
What led you to choose the profession or business/industry you are in ... why do you do what you do?
I came by this industry entirely by chance but also kismet. I have an educational background in the fine arts and art history; this may seem the antithesis of something as technical as automotive repair but it (along with a helping of professional background in the service industry) heavily informs how I do my job every day.
A fine art practice relies on quite a bit of creative problem solving and thinking outside of the box. Similarly – unfortunately – people are walking through my door every day with a problem of some sort. Their car doesn't start. They've been to 3 other places for repairs, and it's still broken. They want to move forward with repairs, but the part is on galactic back order and doesn't exist in this universe. My job is to figure out how to fix the worst part of their day in the time table/ budget/ scope of what they are able to handle.  Because of this, I feel very capable of handling a lot of new and different problems thrown my way.
Art school is also pretty hard-knocks; every decision made or process used can and will be critiqued, so you better be ready to know how to explain yourself in a critical discussion. In many ways, my job is a lot like that. Just like people don't typically like going to the dentist, they don't like to come see their local repair shop. Problem is, most part people get how teeth work for the most part – brush 'em, floss 'em, maybe throw a whitening strip on them every so often and you're good, except for an errant cavity every so often. But car breaks down? 500 million possibilities! It costs how much to fix? Let me explain to you why - we have pull out the engine fix the part. Oh, you've never heard of that part before? Here, let me show you what it looks like, how it works, why it breaks this way… and on and on.
What has been the biggest challenge or risk in your career or your business?
The biggest challenge we see daily is the advancing technology within the cars themselves. Unfortunately, the days of tinkering on cars in the driveway are quickly coming to an end due to the technologies present in them. It's difficult to stay on top of and contributes to the second overarching difficulty our industry faces which is technician shortages. All industry professionals strive to keep up with constant training, but no single person is an encyclopedia.
What has been the biggest success or source of accomplishment in your career or business?
I would say our biggest success is the growth we've seen over the last 4-5 years, not just in sales but in staff and customer satisfaction. You take care of those two things first and the sales just come along after the fact. We almost immediately put 100% employer paid healthcare in place – something almost no individual repair facilities do. Profit sharing and employer contributed retirement plans came soon after as well. We now have a robust staff that is collaboratively invested in the success of the company and devoted to putting out excellent work. It was a long, hard road to get here but I couldn't be happier with the people we have.
Who do you lean on for advice or ask for help ... do you have a mentor?
Coming into ownership of Northtown in 2018 was an ambitious challenge and daunting adventure all at the same time. At the time, I had little to no "ownership or "leadership" experience; I had far more room for failure than success. I've had a lot of assistance along the way from mentors, colleagues in the industry, and even from past and current employees. I think it is important to have multiple sources around you for support - no single person is an island - and knowing which of those people is appropriate for the situation.
What are some of your interests or activities outside your career or business?
Ha hobbies? What are those? In all seriousness though, mostly working on refinishing antique furniture, knitting, and going on hikes with the husband and dog. Anything that is a mindless activity to rest the brain after a long day's work. While I enjoy explaining and educating others about them, I am not at heart a "car person" so you won't see me waxing my 20-year-old vehicle in the driveway on the weekends.
What is one piece of advice you have for other Women in Business Leaders or other Female Entrepreneurs currently running a business or thinking about launching a company?
Don't be afraid to learn from those around you and lean on them as needed. It doesn't matter who. My husband doesn't know a lick about automotive, but he knows when to tell me to slow down and have a sip of whiskey when I'm working too hard. Look at what you're industry colleagues are doing and emulate the things you think are amazing. Tell them what they are doing is amazing; they deserve it because they hear it just as infrequently as you do.