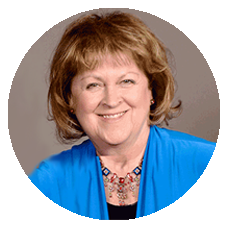 Judy Roetheli, President of Key Companies & Associates
(Manufacturing, Production, & Wholesale)
Briefly describe the business/industry you are in ... What does your company do ... What is your company's mission?
Primarily we have been in the pet industry the last 30 years, but today we are also prominent in the power tool industry, and we have tested the water in a few other endeavors.  For example, we built The Spa Tuscano in Briarcliff Village and were voted Best Spa in KC twice and received a bronze award before that.  We also owned The Café at Briarcliff for several years, which was voted Third Best Lunch in KC.
What led you to choose the profession or business/industry you are in ... why do you do what you do?
Greenies was the result of having two Samoyed Dogs that had horrible breath.   Greenies was not designed to be a business but evolved into a highly successful one.  In 10 years, Greenies became the 8th largest pet food/treat company in the world at retail and the #1 dog treat in America. We also commercialized Pill Pockets.
Our Spyder power tool accessory company is doing well if we can keep up financially with the growth.  Lowe's has honored Spyder with Innovation Partner of the Year Awards in 2019 and 2021 and have recognized Spyder in quarterly reports to Wall Street in 10 of the last 11 reports.
What has been the biggest challenge or risk in your career or your business?
Our biggest hurdle always seems to be getting financing and hiring great people.   During the early years of Greenies, we had to finance with credit cards.  Joe, my husband, called me the "reigning queen of rolling credit cards" since we used so many credit cards and rolled one over onto another card when the low interest rate was over!
What has been the biggest success or source of accomplishment in your career or business?
Because of our success with Greenies, we were in a position to establish a 501 c 3 foundation out of which evolved our most gratifying success that helps the needy with Third World Assistance with housing (over 300 houses built); schools in the communities where we built houses and deep-water wells and another safe drinking water set of equipment.
Pet therapy is so gratifying to see.  Many of these animals have literally saved the lives of those they visited in hospitals and hospice.  We have made donations to the Jim the Wonder Dog Museum in Marshal, MO.  The true story of Jim, the wonder Dog is so touching and wonderful!
Entrepreneurship is extremely important to us, and we have helped teach many classes on this subject.  We also donated seed money to start the UMKC Entrepreneur Hall of Fame which recognizes and honors famous persons from the Kansas City region who have made generous contributions and inspired many.  Henry Bloch, Kate Spade, Ollie Gates, Annie Hulbert, Tom McDonald, and John Sherman are just a few of the inductees.
We learned of and wrote about the inspiration of Serge Roetheli who ran the distance of the circumference of the world with only his wife as his entourage.  Other inspirational stories we have written about include Dummy Hoy, who was a deaf mute who played major league baseball – his dream and  130 years later, one of his records still stands; a young man  in Nebraska, who has no arms yet drives 30 miles each way each day and then saddles his horse and rides the feedlots to look for cattle that need medical attention; and a  gal who won a national barrel championship while legally blind.
Liberty Women's Clinic has been an important part of our gifting. We donated old barn wood that they repurposed to use in their new building.  We also helped to finance a bus to go into different parts of the city to offer free ultra – sound in hopes of helping couples to consider life over death of their baby.
Who do you lean on for advice or ask for help ... do you have a mentor?
We built Greenies while the distant relative, Serge Roetheli ran the world and we felt If Serge could overcome the hurdles of running the world, we could overcome our hurdles. God was our constant source of strength.  We live by the words from ancient scripture from the Book of Jeremiah 29:11 – "For I know the plans I have for you," declares the Lord, "plans for good and not for harm, plans to give you hope and a future".  We took those words to heart and believed in their truth for us and made our dreams come true.
What are some of your interests or activities outside your career or business?
We have six grandchildren, who have been a blessing and a joy to us.  We have traveled on 6 continents and are planning to travel to Antarctica next February.  We enjoy table games, especially Pinochle. Last year, while playing with some relatives, I was dealt– 1500 in four handed Pinochle.  I felt that this was really a miraculous thing! Cooking is still an art form I enjoy along with a dabble into painting, bird watching and being in the mountains or at the beach.
What is one piece of advice you have for other Women in Business Leaders or other Female Entrepreneurs currently running a business or thinking about launching a company?
Watch your cash flow meticulously, this is so important!  Trust yourself to know where the money is going so you are less likely to be taken advantage of by the unscrupulous. Good is the enemy of great.  Keep moving forward as you reach 'good' so you can get to 'great'.  Have mentors with acumen in at least business, your technical area, and a mental mentor.  Identify a market need, come up with a product to meet the need that is a true fix that no one else has; build your brand and execute daily.   Develop a culture that employees love and use the 3 Rs of Business and working with people:  Respect, Recognition, and Reward. Hire great people!