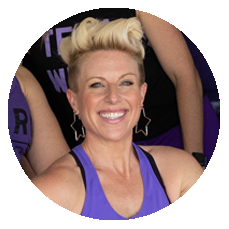 Haley Struxness – Owner, WERQ Dance Fitness Studio
(Health & Wellness)
Briefly describe the business/industry you are in ... What does your company do ... What is your company's mission ...

WERQ Dance Fitness is a national fitness company that helps people stay/get healthy by providing a wildly addictive workouts and fostering an inclusive community. With over 2,000 WERQ Instructors across the US, we help thousands of people each week live happier lives via dance. The first WERQ Studio was established in May 2021 right here in North Kansas City. The studio serves as the company headquarters. We have e-commerce, an online streaming platform, in-person classes, and a team of Master Trainers who run trainings across the US.
What led you to choose the profession or business/industry you are in ... why do you do what you do?
Dance and fitness have always been part of my life. I grew up taking dance at Ibsen Dance Theater and Kansas City Ballet, as well as playing sports in the North Kansas City School District. When I discovered dance fitness classes at the University of Missouri, I fell in love! Several years into teaching aerobics, I decided to create a dance fitness program and train other instructors how to teach my choreography. Sharing the joy of dance with others has been the most rewarding job. I get to be a part of people's health journey and make them smile and SWEAT on a daily basis! What's better than that?
What has been the biggest challenge or risk in your career or your business?
Before the pandemic, I would have said cash flow. I've bootstrapped my business most of the way and that can be really challenging for an ambitious, big dreamer like me. Learning how to map out bigger projects and leverage other areas of my business have been tricky with the ebb and flow of the fitness industry. COVID really hit group fitness hard, since we couldn't gather in person safely. Moving into the online fitness space was a scary, but necessary, step to stay dancing through the pandemic.
What has been the biggest success or source of accomplishment in your career or business?
I take the most pride in the community I've built around my company. I'm a big believer in the power of a connected community. Some people find their best friends at WERQ classes! We've learned so much from each other over the last few years especially. It makes my heart feel warm and fuzzy thinking about how WERQ is what connects us…changes our lives…and pull us out of the tough times.
Who do you lean on for advice or ask for help ... do you have a mentor?
I lean on a handful of trusted people. My #1 is my best friend who is also in charge of operations for WERQ Fitness. It's pretty rare to find someone capable of friendship and a professional relationship. Other people I lean on own businesses adjacent to my industry. Because we are business owners, we understand the challenges better than anyone else. More recently, I have also sought out extra help and advice from the Missouri Small Business Development Center. My mentor, Joel, has been a great resource in mapping out the future of WERQ.
What are some of your interests or activities outside your career or business?
I love my 2 gutsy girls, Layla and Norah. They teach me so much! I also love roller skating. I picked it back up during the pandemic. You'll see me at Wheel Park in NKC getting my groove on!
What is one piece of advice you have for other Women in Business Leaders or other Female Entrepreneurs currently running a business or thinking about launching a company?
Don't try to do it all….even if you can! Build a strong team of people who you believe in and who believe in YOU. When you work with people who have different strengths, you become collectively bulletproof.